Welcome to S-Gauge Model Railroading
Thanks for visiting our website. The Pittsburgh S-Gaugers (PSG) is a club for model railroaders interested in S-gauge (1/64 scale; 3/16″ = 1′) trains. American Flyer (AF) is S-gauge size. (Please see the Scale-S page for an explanation of the terms scale and gauge.) The club has members in southwest Pennsylvania, northern West Virginia and eastern Ohio.
Depending on the person's interest, we run trains, create layouts for them, build and/or modify models and railfan. We periodically display layouts at regional train shows, such as the Greenberg's Train and Toy Show and the Carnegie Science Center's annual winter "Locomotion Weekend".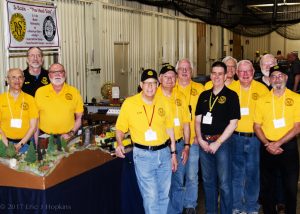 Our membership includes all aspects of S-scale trains: American Flyer-S (AF), Hi-Rail-S and Scale-S. Scale-S modelers focus on realistic model details and include standard and narrow (e.g. Sn3) gauge track. Click on the "AF/Hi-Rail-S" or "Scale-S" tab in the menu bar for more information!
The Pittsburgh S-Gaugers club is not affiliated with any other organizations, but we do encourage membership in the National Association of S Gaugers (NASG) and/or the National Model Railroad Association (NMRA). Many of our members who are especially interested in collecting American Flyer belong to the Train Collectors Association (TCA). Links to these organizations can be found on our S Links pages.
Our membership is open and the club organization is informal, without officers or dues. All that we ask is that you support club activities from time to time. We publish a monthly newsletter and generally meet twice a month in homes, social halls and restaurants.